Education is one of life's most significant investments, and students who decide to study in the UK will be well on their way to a fulfilling and rewarding future.
The United Kingdom is a world leader in multiple areas of education, notably art, science, engineering, law, design, business management and finance. Every year, more than 6,00,000 international students enrol in programmes ranging from the English language to PhD. The education system in the United Kingdom is widely regarded. It enables students to take multiple courses from diverse fields of study, allowing them to tailor degrees to their specific interests. The graduates of British colleges and universities are among the most employable in the world; they progress faster and earn more than peers educated in any other country. But are these benefits sufficient to answer the question, "Why study in the UK?"
In this article, we will discuss various perks of studying in the United Kingdom. If you want reasons to choose the United Kingdom as your study destination, this page is for you!
Top 10 Benefits of Studying in UK
From world-class institutions to a dynamic multicultural environment, there are numerous advantages to studying in the United Kingdom. Here are the top ten reasons to study in UK for international students:
Assured Quality of Education
Affordable Costs
Scholarship Opportunities
Welcoming Culture
Free Healthcare
Work Opportunities & Internships
Cultural Attractions
Vibrant Lifestyle
Lasting Connections
High Standards
With these reasons in mind, you will know why choose UK for study, regardless of your nationality. Let's get right into them!
1. Assured quality of education
The United Kingdom has world-class universities that are recognised throughout the world. It is home to the world's most prestigious university, the University of Oxford. Furthermore, the United Kingdom has seven universities in the top fifty and twenty-six in the list of 200 best world universities. The United Kingdom is also ranked second worldwide for Science and Research.
The Government ensures the quality of UK higher education providers. 162 universities in the United Kingdom are held to tight government standards, ensuring high-quality education.
What's more, the UK education system combines traditional lectures with a range of educative techniques that promote problem-solving, independent thinking and self-motivation.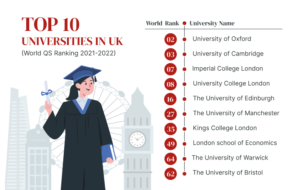 2. Affordable Costs
The United Kingdom may appear to be a costly place to live (and it is), but most people are not aware of the short length of courses if compared to other popular study destinations.
Bachelor's programmes (or undergrad courses) often last three years, whereas Master's programmes (or postgrad courses) typically last one year, saving students time and money on living costs and tuition. Despite the brief duration of courses, UK degrees are acknowledged and sought after all across the globe.
Some cities are incredibly affordable to live in (and have some of the best institutions in the country). For example, Ulster University, a TEF Gold-Rated University, is located in Belfast, one of the cheapest places in the UK.
Overseas students usually pay greater tuition fees than domestic students. On average, a study in UK cost for international students amounts to £13,000 per year, whilst the prices for domestic students are fixed at around £9,250 per year.
3. Scholarship Opportunities
Scholarships are available to international students at almost all UK universities. GREAT Scholarships, International Ambassador Scholarships, Chevening Scholarships and Academic Excellence Scholarships are just some of the options the United Kingdom has to offer.
In collaboration with the British Council, GREAT Scholarships offer up to £10,000 for Postgraduate Programmes. Another well-known scholarship in the United Kingdom is the Chevening Scholarship for Taught Postgraduate Courses. It covers tuition and return tickets. Nonetheless, this scholarship is highly competitive and requires a solid academic background.
Some universities in the United Kingdom provide International Ambassador Scholarships for up to £5,000. Students who receive this scholarship are expected to participate in university-sponsored events. The University of West London is just one of the universities providing the scholarship.
The United Kingdom is also an attractive option for students with strong academic credentials, as certain institutions provide excellence-based and merit scholarships. Undergraduate students can get up to £3,000 per year, while postgraduate students can receive up to £4,000 per year. One of the universities providing this scholarship is London Metropolitan University.
4. Welcoming culture
When asked, "Why do you want to study in UK?" most applicants answer that they want to be surrounded by like-minded individuals from diverse backgrounds and make friends internationally.
The United Kingdom is a liberal, multicultural country with residents from practically every corner of the globe. As per the Higher Education Statistics Agency (HESA), the United Kingdom is the globe's second most popular study destination, with 679,970 overseas students having enrolled in UK universities in 2021/22, so you can be confident of a warm welcome.
5. Free Healthcare
The UK has the National Health Service, which means that if you are studying in the United Kingdom for 6 months or more, you get access to free healthcare. You will still pay for medicine, but you will never pay more than a predetermined charge per item, regardless of how expensive the prescribed medication is. This is capped under the NHS.
This is a huge help for students concerned about affording their study abroad experience. Hopefully, you won't fall sick, but your peace of mind is worth it!
6. Work Opportunities & Internships
Another benefit of studying in the UK is an opportunity to get a part-time job, as all student visa holders are allowed to work up to 20 hours a week. In the United Kingdom, there is also a guaranteed minimum wage, which means you will earn a minimum of £118.00 before tax a week to pay your tuition.
You can also apply for an internship at one of the many internationally renowned organisations headquartered in the UK, such as Rolls Royce or BBC.
No matter what path you choose, after completing your study abroad programme, your resume will look amazing.
7. Cultural Attractions
The United Kingdom has a long history. There's so much to see and do in London, from the Buckingham Palace and Tower of London to Edinburgh Castle and Stonehenge.
If that isn't enough to pique your interest, the UK also features world-class musical venues such as Birmingham Symphony Hall and London's Alexandra Palace, as well as some of the world's most well-known music festivals.
8. Vibrant Lifestyle
The United Kingdom is known for being the Industrial Revolution pioneer and having some of the world's oldest cities and cultures and most unique accents; there is much to be learned from this country.
Wimbledon, F1, Premier League, Moto GP, and other major international events are also held in the United Kingdom.
9. Lasting Connections
All universities in the United Kingdom are equipped with tutors and course coordinators with industrial expertise and knowledge. Students can interact with them and learn firsthand. These ties typically last long and can be particularly useful for professional advancement.
Furthermore, universities in the United Kingdom have Employability and Career Service Centres that focus on helping students create their CVs, equip them with the necessary skills and prepare for interviews in the country's top firms. This service is beneficial throughout the placement year and during the PSW period.
10. High Standards
Our last reason for why UK for study is that the Quality Assurance Agency for Higher Education (QAA) regularly inspects institutions in the United Kingdom. This serves as an added guarantee of the highest research, teaching and learning standards.
Moreover, the Teaching Excellence Framework (TEF) rates teaching at UK universities, while the Research Excellence Framework (REF) grades research, with all results available online. This implies that you have more options than ever before for making an informed decision regarding your education.
You might also find useful: Case study writing help
The Takeaway
Now that you have enough reasons to study in UK, you may move forward and fulfil your dream. As an international student, you can select from a variety of programmes offered by UK universities.
However, once you've enrolled in a UK university, there are many additional things to take care of, such as finding housing and a part-time job while making time for your assignments. But worry not; with professional homework help from our essay service, studying in the UK will become a breeze!
Our certified experts across 50+ subject areas are here 24/7 to assist you with anything from the Why do you want to study in UK essay to the How do our genes influence our lifestyle and behaviour research paper and anything in between. All they need to get started on your assignment are your instructions!